Enhance Your Home's Curb Appeal With Rocks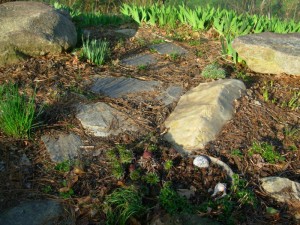 If you're looking to give your outdoor space a new look, using rocks might be the way to go. Natural stones add texture and contrast and require very little maintenance. And while there are lots to chose from, certain rocks will help set the tone for your entire outdoor space.
For Driveways …
Gravel is easy to find and equally as easy on your wallet, but looks surprisingly elegant in dark or tan colors.
Cobblestones range in color from rich, earthy browns to gray. That and their rounded edges add character and a sense of history.
Recycled Granite Pavers are made of leftover granite countertops. These rust or gray-colored stones will look as nice on your driveway as in your kitchen.
For Patios …
Slate is frequently shaped into squares and rectangles for indoor and outdoors rooms. The uniform look lends itself to a polished finish.
Sandstone is most often seen in tans and rusty reds. The earthy, large slabs create a nice contrast to dark outdoor furniture.
Pea Gravel is an excellent rock for shadowy spaces where grass grows sporadically.
For Decoration …
Boulders are perfect for waterfalls, accent pieces, soil retention and more.
River Jacks are not just attractive, but also effectual. They're great for preventing weed growth and retaining moisture.
Mexican Beach Pebbles are a great design element. Exposure to the sun, water and sand give these rocks a smooth, polished look that compliments water features, pathways, gardens and more.
To execute these ideas or discuss your specific needs, contact us today.