Spring is Here, When Should I Remodel My Pool?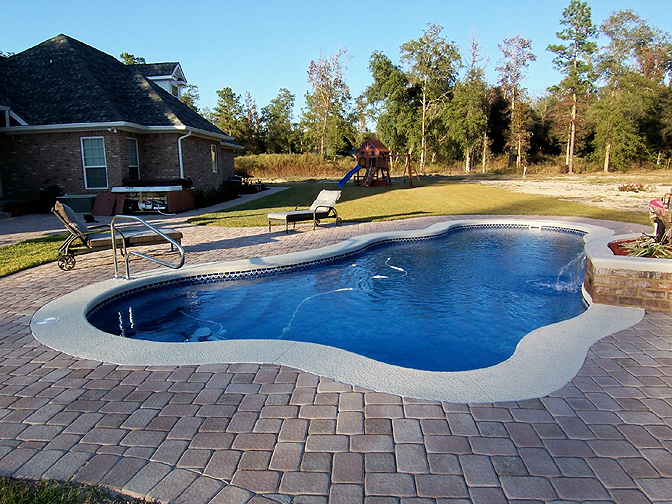 Spring has arrived and if you are in South Florida, and with it comes Summer-like heat and the consequential need to enjoy our pools! Now, if you have a pool that has not been used in while, or your pool are is looking dull after the Winter, you might start thinking about a pool remodeling or at least a pool deck renovation. So exactly when and how should you start considering a pool remodeling? Let's get in into it!
The common conception is that the BEST time of the year to remodel your pool in South Florida is the Winter. Pools a used a lot less during this period, and depending on your weather conditions, you might even drain your pool during winter, making it proper for a renovation.
But that time is past! We left Winter behind us and Spring is here! What should we do?
First of all, let's look into the scenarios that might cause you to consider undertaking a pool remodel project:
– Old & dated design or materials.
– Bought a new home but don't like the pool.
– Failures or defects requiring major attention or repair.
There is a difference between a swimming pool repair and a remodel. Although you might make some repairs during a pool remodel, generally, making repairs is not an option but keeps everything the same. In other cases so many repairs might be needed at one time that makes for justifying an entire pool renovation.
Another consideration that is related to this topic is "pool restoration" which involves some specialized work to keep the same materials originally installed but to make everything look new & fresh again.
Common Pool Remodeling Jobs
As with anything, swimming pools show wear over time. Specially under Florida's year in and year our scorching sun, colors will fade, tiles and bricks might crack, equipment might stop working, and some general repairs and updates will need to be made. A good majority of pool renovations are optional.
There are a few items that are most common in remodeling a pool, and those are:
– Stone & mortar / grout cracks, failures
– Deteriorated mastic sealant, missing & crushed expansion joints
– Water leaks on fittings, pumps and equipment
– Jammed / clogged, cracked pool plumbing pipes
– Coping stone or tiles that are loose or missing
– Crack on the inside of the pool
– Loosing water for no apparent reason
– Broken & non-working parts of equipment
These are just a few jobs one might need done to the pool before the summer season. Because these problems can create other issues and get worse over time paying attention to the details and taking care of repairs proactively is the best way to protect your investment.
Take an afternoon and inspect your pool in detail. Look for any signs of settling or stress. Cracks may not be evident right away but do get worse over time. The main checkpoints are:
– Coping & cap stones
– Worn pool interior (rough, pitted, cracked, or falling apart)
– Mastic Sealant (on all of the expansion joints)
– Waterline tiles missing, cracked or broken
– Safety rails loose or missing
– Standing water at the pool equipment area
– Concrete surfaces faded, cracking, chipping
A good remodel can benefit you in many ways. Don't regret having a swimming pool, you just need a trusted source to give you the right information so you can take action on the items that apply to you.
Key benefits & features when you are planning the pool renovation project:
– Save on electrical cost (Update the pool pumps & lighting system)
– Automate your system (Upgrade to full wireless & automatic controls)
– Get an automatic freeze protection (built in to all automation systems)
– Easier maintenance & service (new filters, pumps & cleaners are more user-friendly and efficient)
– Get a Salt Water Pool (enjoy relaxing benefits + ease of maintenance with a salt pool system)
As you can see – there's a lot to think about and you might feel you must seek some professional help, and that's when All Seal Exteriors can come to your aid. We can examine your pool, take notes on what you'd like done, and present you with a comprehensive plan with options on what you should do, when and how much the many options would cost.